At 20 Triton Street, Broadgate Estates is working together with Gazprom Marketing & Trading to provide a better working environment for the Gazprom team, whilst optimising energy efficiency, minimising energy bills and reducing CO2 emissions. Gazprom and Broadgate Estates also engage closely on building-wide energy efficiency initiatives, which has led to 20 Triton Street becoming the first building in the British Land portfolio with all occupiers signed up to investment opportunities identified through Energy Savings Opportunity Scheme (ESOS) audits.
15% REDUCTION IN ENERGY USE ON GAZPROM FLOORS OVER TWO YEARS

£36K ENERGY COST SAVINGS ON GAZPROM FLOORS OVER TWO YEARS

£169,300 FORECAST SAVINGS FOR GAZPROM FROM ESOS INITIATIVES

IMPROVED OCCUPIER RELATIONSHIP
Situation 
Broadgate Estates is a leading property management company, committed to high sustainability standards, which are delivered partly through occupier engagement initiatives. Gazprom Marketing & Trading is a subsidiary of one of the world's largest energy companies.
At 20 Triton Street, Regent's Place, property owner British Land chose to install an EP&T Global energy management system in landlord areas, as part of an initiative to upgrade energy management and improve the accuracy of utility charges. The EP&T system was chosen for its ease of use for occupiers to log on to the platform and monitor their own energy profiles alongside those of the base building. When Gazprom moved in to the building in 2011, it completed the installation of the EP&T Global energy management system in its offices. Since 2012, Gazprom has worked closely with the Broadgate Estates building management team to use data from this system to optimise lighting levels, temperatures and air quality for staff, while also utilising the data as an effective management tool to improve the operational efficiency of each of these systems.
Actions
Smart energy management
The EP&T system provides a level of detail that gives Broadgate Estates and Gazprom insights into exactly how energy is being used, and as well as highlighting trends and issues which need to be reviewed in Gazprom's areas. These include:
Equipment running during unnecessary hours.
Items using more energy than expected.
Unusual peaks and troughs in energy consumption.
The system tracks kWh consumption in terms of financial costs. Gazprom uses this information to make management decisions, such as:
Manipulating run times.
Adjusting light settings.
Changing temperature controls.
Replacing equipment.
Consultancy support
In 2014, Gazprom engaged Phil Draper, Senior Technical and Sustainability Manager for Broadgate Estates, as an energy consultant to help the team identify further savings opportunities. Phil provided training to support the Gazprom team in maximising the benefits of the smart energy management system.
Since then, each month, Phil and the Building Engineering Manager, Mick Redmond, have met with Peter Jackson, Properties and Facilities Manager at Gazprom, to interrogate the data. Together, they assess energy consumption and review out-of-hours consumption against baseline energy loads (when all non-essential equipment is switched off) to identify opportunities to optimise efficiency.
Building-wide opportunities
In addition to initiatives on Gazprom floors, Broadgate Estates and Gazprom liaise closely on building-wide initiatives. Having the support of the largest occupier makes it easier for Broadgate Estates to bring others on board, particularly where capital expenditure is required. 20 Triton Street was the first building in the British Land portfolio where occupiers signed up to investment opportunities identified through ESOS audits, with Gazprom the first occupier to do so.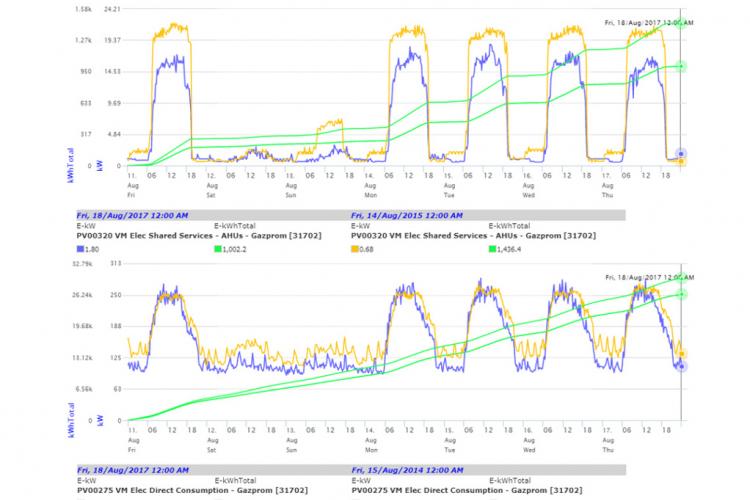 Financials and benefits
Gazprom floors
Energy reductions made every year since moving in, with no disruption to working environmental conditions.
15% energy reduction over the last two years, saving Gazprom £36k, from £4.2k investment, and cutting CO2 emissions by 1.5 tonnes.
Positive messages for Gazprom to share with colleagues and clients, demonstrating a commitment to reducing environmental impacts and improving energy efficiency.
Use of the data can help Gazprom's IT procurement team in decision-making and provide evidence that validates those choices ­– e.g. demonstrating that new monitors are much more efficient to run than old, and that new equipment in the computer rooms has resulted in efficiency savings.
Common parts and shared services at 20 Triton Street
21% energy reduction over five years, saving occupiers £148,200 (Gazprom share: £53,350) and cutting CO2 emissions by 770 tonnes based on improved building management with no additional cost to occupiers.
£82,000 investment in ESOS initiatives (Gazprom share: £29,900), with a forecast return on investment of £464,600 over occupiers' lease terms (Gazprom share: £169,300).
The reduction in run hours and demand on the equipment is improving the equipment reliability.
CHALLENGES & ACHIEVEMENTS
How to get occupier buy-in?
Broadgate Estates operates quarterly environmental working group meetings, where occupiers and building teams review key environmental factors. As the largest occupier with the highest occupancy and energy rate per m2, the group decided that Gazprom would be the best place to start.
Key to the success of the occupier engagement at 20 Triton Street are:
British Land's installation of the smart energy management system for common parts and shared services, which provides accurate, granular data in real time.
Broadgate Estates' expertise in using energy data and communicating it to occupiers, helping them link kWh of energy used to money spent.
Gazprom's interest in energy efficiency and focus on making improvements, installing the smart energy management system in its areas and procuring consultancy services from Broadgate Estates.
As the energy partnership has delivered results, Gazprom has become progressively more engaged, with the monthly meetings driving momentum. Broadgate Estates and Gazprom are constantly looking for savings opportunities, from smaller initiatives such as switching off the fridge cooler in the canteen area to bigger changes; for example, exploring a more proactive approach to maintenance of Gazprom equipment, such as chillers and fan coil units. Broadgate Estates has also commissioned a survey, using CIBSE TM44 Inspection of Air Conditioning Systems guidance, to review how Gazprom's chillers could work in tandem with the base building plant to improve efficiency.
How to optimise energy use at weekends?
Gazprom has a trading area that operates seven days a week, which is against the norm for other occupiers at 20 Triton Street. Gazprom was therefore paying running costs for air handling units, boilers and chillers at weekends. Broadgate Estates engaged with Gazprom to find a solution that would fulfil weekend needs, whilst reducing the high levels of energy consumption per person. As a result, air handling units no longer run at weekends, when only a few people are working and additional fresh air does not need to be pumped in to maintain optimum air quality. In addition, boilers are no longer activated, as weekend workers reported feeling hot rather than cold, due to trading desks with large computers that emit heat. These measures save approximately 100kWh each weekend.
How to engage occupiers on capital expenditure?
At 20 Triton Street, the smart energy management system provides robust, detailed energy data so that the return on investment can be accurately forecast for occupiers. In 2017, when Cavendish Engineers carried out the ESOS audit at 20 Triton Street, they could confidently estimate savings for each opportunity identified within the audit:
£33,660 from introducing a new standalone dedicated controller that interfaces with the chillers and the existing Building Management System (BMS), enabling the team to optimise the chiller, boiler and associated pumps' energy use – reducing gas use by an estimated 15% and electricity use for cooling by 35%.
£23,890 from installing new CO2 sensors on each air handling unit return duct and in each occupier's area so that fresh air can be supplied based on the number of people in each area, rather than on a standard ratio of workers per sq ft – cutting electricity use for central heating, cooling and ventilation by an estimated 40%.
After putting these out to tender, Broadgate Estates was then able to provide occupiers with detailed information on the overall investment required and forecast savings, as well as the breakdown per occupier over their lease terms, which helped secure support for installation, due to be operational in September 2017. The EP&T system also allows for ongoing monitoring of predicted savings and supports Broadgate Estates in making real-time adjustments to the plant operation to maximise the benefits.